10 visualizações de dados inspiradoras para o Data Science Geek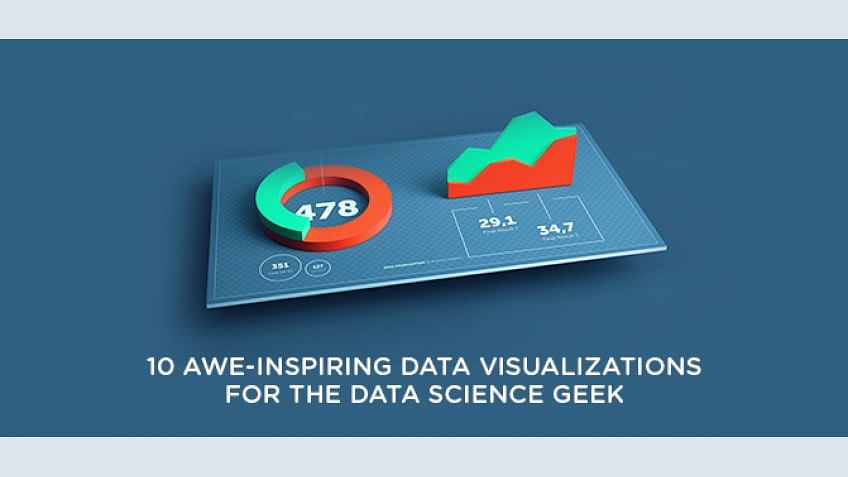 Big Data é enorme. Mas, por mais importante e útil que possa ser, quando apresentada em planilhas eletrônicas, ela se torna extremamente entediante! Peneirar enormes pilhas de informações para obter qualquer insight significativo também é difícil. E, acima de tudo, quando se trabalha diretamente com dados, é fácil perder informações cruciais que podem afetar o resultado.

A pesquisa prova que o cérebro humano processa melhor as visualizações. E é aí que a visualização de dados é útil! As visualizações de dados apresentam clusters de dados em um layout fácil de entender. Eles podem ser estáticos (como gráficos, gráficos, infográficos, etc.) ou interativos (onde o espectador se aprofunda e interage com a representação para obter mais insights).
Preparando-se para uma carreira em Ciência de Dados?   Faça este teste para saber onde você está!
E as visualizações de dados são super interessantes! Intuitivas e fáceis de entender, as visualizações há muito são um passatempo favorito para os geeks de dados. Nós vasculhamos a web para reunir alguns dos melhores e mais interessantes projetos de visualização de dados para você - continue lendo para saber mais, e para aprender como você pode trabalhar em seus próprios projetos em um piscar de olhos, também!

Antes de começar: Uma interessante visualização de dados por David McCandless fala sobre o que constitui uma boa visualização de dados!

1. Porcentagem da população dos EUA por faixa etária
Esta visualização de dados cativante da Pew Research representa a face mutável da demografia dos EUA ao longo de um período de tempo. Gráficos de barras são empregados com grande efeito nesta visualização. A sombra mais sombria da baby boomers também é distintiva. No geral, o gráfico é definido da maneira mais interessante e simplista possível. Esta visualização está no topo da nossa lista!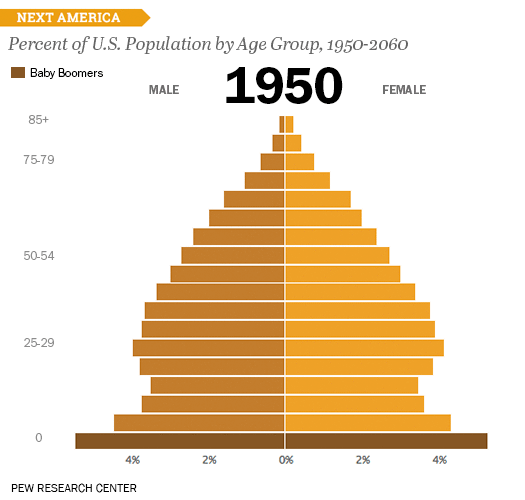 2. Satélites Orbitando a Terra
Baseado em um banco de dados compilado pela Union of Concerned Scientists, David Yanofsky e Tim Fernholz compuseram uma visualização interativa de dados. Este gráfico alucinante apresenta uma visualização dos mais de 1.200 satélites que orbitam a Terra. Ele inclui dados sobre o peso de lançamento, caminho / região em que as órbitas dos satélites, satélites que fornecem Internet de banda larga, GPS e Sirius XM, e assim por diante, em um único gráfico.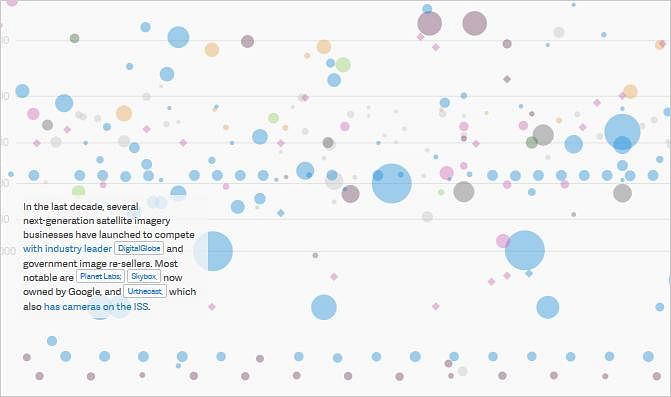 Confira aqui a versão interativa original .

3. Gap Pay Gap-US
Outra compilação baseada em dados do Bureau de Estatísticas do Trabalho dos EUA pela equipe de David McCandless, esta visualização apresenta informações salariais por gênero para os EUA. região. A representação inclui informações de vários setores, como Mídia, Vendas, Direito, Educação, Trabalho Manual, Ciência, Tecnologia e Engenharia, e muito mais. Em seu site - InformationisBeautiful.net , David divide ainda mais essa visualização de dados em gráficos mais simples que indicam os empregos masculinos e femininos mais bem pagos nos Estados Unidos e as diferenças salariais mais amplas e estreitas nos EUA.

Aqui está o visual completo de dados estáticos.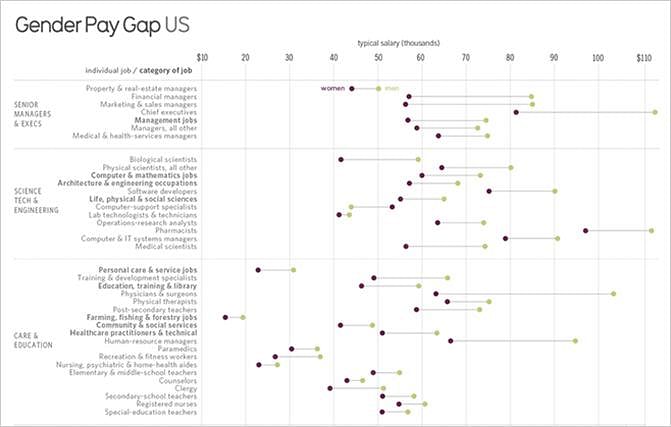 Fonte: Informationisbeautiful.net
4. O que realmente está aquecendo o mundo?
Você é um ecologista? Ou um ser humano considerado preocupado em deixar para trás um planeta melhor? Essa visualização interativa de dados da Bloomberg Business certamente chamará sua atenção. O gráfico não só compara os diferentes fatores influentes que contribuíram para o aumento da temperatura na atmosfera terrestre, mas também ajuda os leitores a responderem à questão do que realmente está aquecendo o mundo.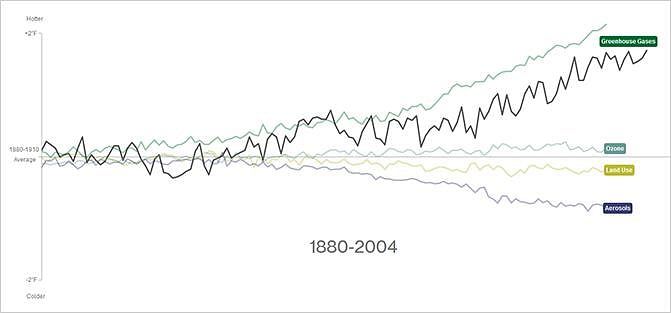 Confira aqui a versão interativa original .

5. A profundidade do problema
Richard Johnson e Ben Chartoff, do The Washington Post , criaram um longo infográfico para nos ajudar a entender a profundidade dos oceanos para lançar alguma luz sobre o desaparecimento do vôo do Boeing 777-200ER da Malásia. Os dados da pesquisa foram coletados de uma variedade de fontes, incluindo o Australian Maritime Safety Authority, revista Hydro International, Administração Nacional Oceânica e Atmosférica, BBC.co.uk e Plosone.org. Ilustrações dos prédios mais altos do mundo, como o Burj Khalifa, também são apresentadas em escala.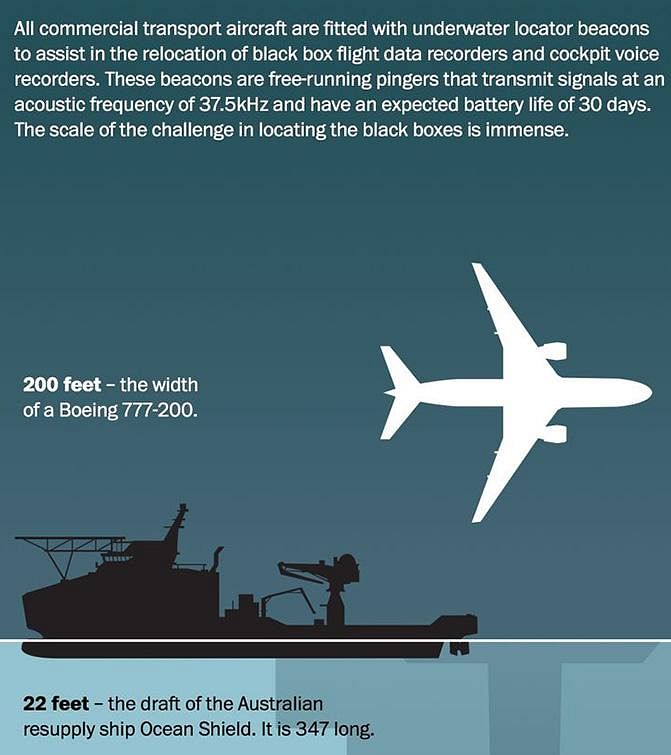 6. NYC Street Trees
Compilado com informações do NYC Open Data, esta visualização de dados oferece informações valiosas sobre a grande variedade de árvores que adornam as ruas de Nova York. Este gráfico interativo cobre os mais de 67 gênios de árvores que são cultivadas em todos os cinco distritos de Nova York - Bronx, Brooklyn, Manhattan, Queens e Staten Island.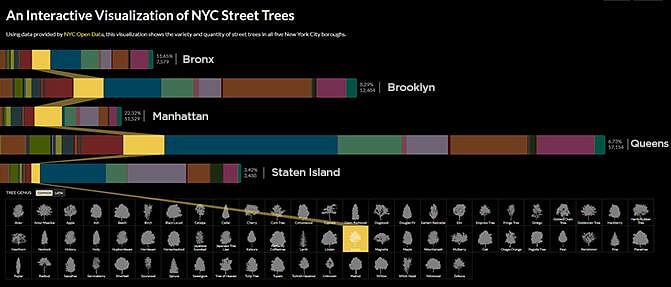 Confira aqui a versão interativa original.

7. Mapa Eólico - EUA
Um Mapa Eólico interativo dos Estados Unidos oferece informações sobre as velocidades e direção atuais do vento em tempo real. O mapa simples, claro e informativo.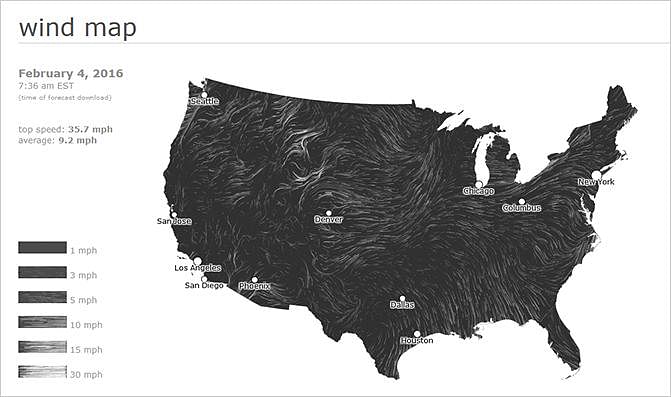 Confira aqui a versão interativa original.

8. 200 Países de Hans Rosling, 200 Anos, 4 Minutos
E não vamos esquecer o famoso vídeo de Hans Rosling - The Joy of Estatísticas - que se tornaram virais. O documentário estatístico do especialista em dados globais em saúde, Hans Rosling, exibido pela primeira vez na BBC em 2010, é uma apresentação de dados complexos relacionados às estatísticas convergentes de riqueza e saúde em 200 países, em mais de 200 anos. Rosling tentou efetivamente espremer o imenso volume de dados em um vídeo com apenas 4 minutos de duração. Assista ao vídeo surpreendente aqui!
Detalhes
9. As rotinas diárias de pessoas criativas famosas

E agora para alguma coisa diferente!

Nós nos deparamos com outra visualização interessante de informações que ilustra as rotinas diárias de pessoas criativas famosas - escritores, poetas, artistas e outros. Você pode ter visto essa tendência em sites de mídia social, recentemente.

O gráfico cobre as atividades diárias de pessoas criativas famosas. Quando você passa por cima dessa visualização interativa, uma descrição resumida da personalidade em foco e algumas informações sobre o que eles fazem durante suas atividades rotineiras são claramente definidos.

Esta visualização de dados interativa cativante é obrigado a interessar as pessoas artsy.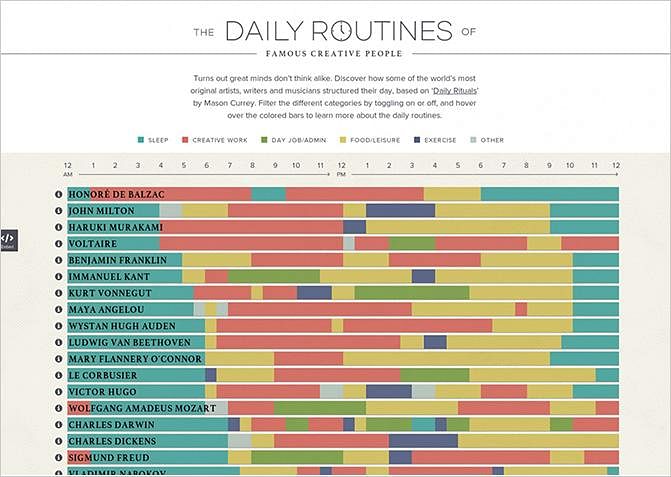 Confira aqui a versão interativa original.

10. Livros de não-ficção que todos devem ler

Aqui está um para todos os amantes de livros!

Com base em dados coletados de prêmios, sites de resenhas e o público, essa nuvem de palavras interativa representa grupos de livros de não-ficção. Clicar nos nomes dos livros levará você à página da Amazon, de onde você pode comprar o livro. Você pode também clique no seu gênero de não-ficção favorito - social, biografia, ciência, filosofia, história, guia e política - abaixo da lista de livros e escolha na lista filtrada.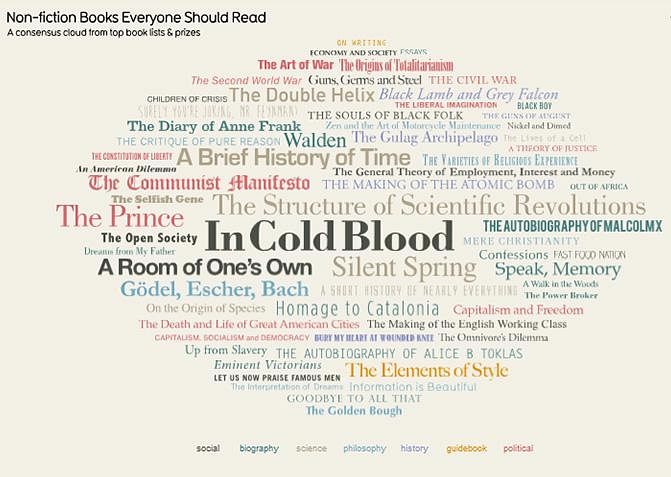 Confira aqui a versão interativa original.

Inspirado por todas essas visualizações alucinantes? Quer aprender tudo o que puder sobre ciência de dados e trabalhar em projetos próprios? Confira nosso novíssimo programa Data Science Masters! Com um caminho de aprendizado meticulosamente elaborado e orientação especializada de pessoas de dentro da indústria, o programa Data Science Masters é projetado para tornar especialistas em dados de pessoas sem conhecimento do campo.

Questões? Escreva para nossa equipe de ajuda e suporte .

---