A Abordagem Scrum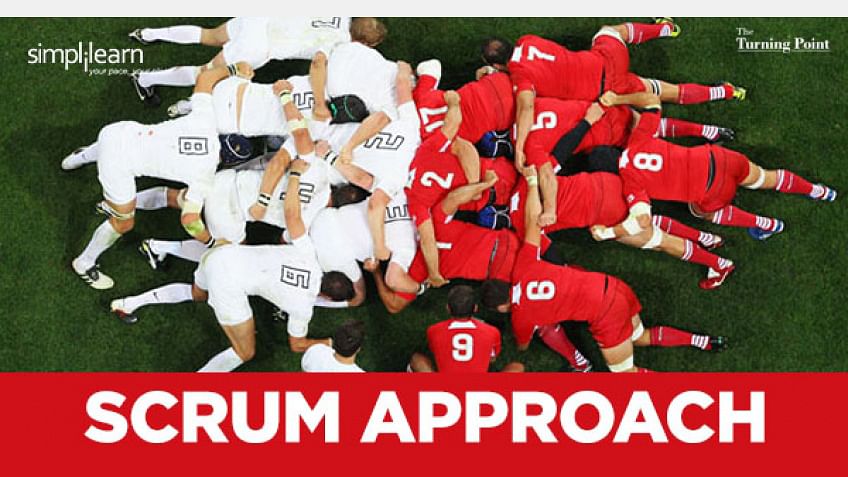 O que é o Scrum?
É uma metodologia iterativa que trata grandes partes do desenvolvimento como uma caixa preta controlada. Iterações chamadas sprints (descritas mais adiante neste artigo) são usadas para evoluir o produto que está pronto para ser enviado após cada sprint. Isso é diferente da maneira tradicional de construir software, usado pelas empresas, que era um ciclo de vida seqüencial comumente conhecido como "a cachoeira".
Uma metodologia originalmente refinada em 1995 por Ken Schwaber e Jeff Sutherland, do trabalho de Hirotaka Takeuchi e Ikujiro Nonaka. Nomeado após o SCRUM em Rugby, este é o framework ágil mais reconhecido.
A família ágil de métodos de desenvolvimento nasceu da crença de que uma abordagem mais fundamentada na realidade humana e na realidade do desenvolvimento de produtos de aprendizado, inovação e mudança - produziria melhores resultados. Os princípios ágeis enfatizam a criação de softwares de trabalho que as pessoas podem usar rapidamente, em vez de gastar muito tempo escrevendo as especificações antecipadamente. O desenvolvimento ágil se concentra em equipes multifuncionais com capacidade de tomar decisões, versus grandes hierarquias e compartimentalização por função.
O Time Scrum
Uma equipe Scrum é composta pelo dono do produto, Scrum Master, e equipe de desenvolvimento, responsável pela entrega de alta qualidade e pontual dos compromissos do sprint.
O Product Owner - Obtém as entradas do que o produto deve ser e as traduz em visão de produto ou Backlog do Produto.
A Equipe - Desenvolve o produto imaginado pelo Dono do Produto.
O Scrum Master -
Faz o que for preciso para fazer o Time Scrum bem-sucedido, como a remoção de impedimentos organizacionais, a facilitação de reuniões, agindo como um gatekeeper, para que ninguém desnecessariamente interrompa o trabalho da equipe.
arrancada
Ciclos de trabalho são chamados Sprints. Essas iterações não duram mais de 3 a 4 semanas e ocorrem uma após a outra sem pausa. Os Sprints são baseados em time-box - eles terminam em uma data específica se o trabalho foi concluído ou não, e nunca são estendidos.
No início de cada Sprint, uma equipe multifuncional seleciona itens (requisitos do cliente) de uma lista priorizada. A equipe se compromete a completar os itens até o final do Sprint. Durante o Sprint, os itens escolhidos não mudam.
Todos os dias a equipe se reúne brevemente para inspecionar seu progresso e ajustar as próximas etapas necessárias para concluir o trabalho restante. No final do Sprint, a equipe analisa a Sprint com as partes interessadas e demonstra o que ela construiu. As pessoas obtêm feedback que pode ser incorporado no próximo Sprint.
A saída de cada Sprint é oficialmente chamada de Incremento de Produto Potencialmente Shippable. Antes do primeiro Sprint, o Dono do Produto e a Equipe precisam concordar com uma Definição de Pronto , que é um subconjunto das atividades necessárias para criar um Incremento de Produto Potencialmente Shippable. A equipe planejará seu trabalho da Sprint de acordo com esta definição de feito.
Eventos de sprint
Antes de iniciar qualquer evento de sprint, o primeiro passo no Scrum é para o Product Owner evoluir a visão do produto em uma lista refinada e priorizada de recursos chamada Product Backlog.
Reunião de planejamento de sprint
No início de cada Sprint, ocorre a Reunião de Planejamento da Sprint . O trabalho a ser realizado na Sprint é planejado nesta reunião. Esta reunião é tipicamente dividida em duas partes (a primeira parte é "o quê" e a segunda parte é "como").
O que será entregue no Incremento resultante do próximo Sprint?
Como o trabalho necessário para entregar o Incremento será alcançado?
Participantes:
Parte um: Product Owner, Team, ScrumMaster. Parte Dois: Equipe, Scrum Master, Product Owner (opcional, mas deve estar disponível para perguntas)
Duração: Cada parte tem um intervalo de tempo de uma hora por semana de Sprint.
Os itens do Product Backlog selecionados para este Sprint, mais o plano para entregá-los, são chamados de Backlog do Sprint.
Scrum Diário
O Daily Scrum é um evento de 15 minutos de tempo para a Equipe de Desenvolvimento (o Product Owner é opcional, geralmente o ScrumMaster está presente) para sincronizar atividades e criar um plano para as próximas 24 horas. Isso é feito inspecionando o trabalho desde o último Daily Scrum e prevendo o trabalho que poderia ser feito antes do próximo.
Todos os dias, os membros da equipe atualizam sua estimativa da quantidade de tempo restante para concluir sua tarefa atual no Backlog da Sprint. Após essa atualização, alguém adiciona as horas restantes para a equipe como um todo e plota no Sprint Burndown Chart . Este gráfico mostra, a cada dia, uma nova estimativa de quanto trabalho (medido em horas por pessoa) permanece até que as tarefas da Equipe sejam concluídas. Idealmente, este é um gráfico inclinado para baixo que está em uma trajetória para alcançar o "esforço zero restante" no último dia do Sprint.
Revisão de Sprint
Uma Sprint Review é realizada no final do Sprint para inspecionar o Incremento e adaptar o Product Backlog, se necessário. O resultado do Sprint Review é um Backlog do Produto revisado (também conhecido como Product Backlog Refinement) que define os itens prováveis ​​do Backlog do Produto para o próximo Arrancada.
A Revisão da Sprint inclui os seguintes elementos:
O Product Owner identifica o que foi "Feito" e o que não foi foi feito";
A equipe de desenvolvimento discute o que deu certo durante o Sprint, que problemas enfrentou e como esses problemas foram resolvidos;
A Equipe de Desenvolvimento demonstra o trabalho que "Concluiu" e responde a perguntas sobre o Incremento;
O Product Owner discute o Product Backlog como está. Ele ou ela projeta datas de conclusão prováveis ​​com base no progresso até a data; e,
O grupo inteiro colabora sobre o que fazer a seguir, para que a Revisão da Sprint forneça informações valiosas para as próximas Reuniões de Planejamento da Sprint.
Esta é uma reunião de quatro horas com caixa de tempo para Sprints de um mês. Proporciona proporcionalmente menos tempo para Sprints mais curtos.
Retrospectiva da Sprint
A Retrospectiva da Sprint é uma oportunidade para o Time Scrum se inspecionar e criar um plano para melhorias a serem implementadas durante o próximo Sprint.Time-boxed para 45 minutos por semana de Sprint.
O objetivo da Retrospectiva da Sprint é:
Inspecione como foi o último Sprint em relação a pessoas, relacionamentos, processos e ferramentas;
Identifique e ordene os principais itens que correram bem e possíveis melhorias; e,
Crie um plano para implementar melhorias na forma como o Time Scrum faz seu trabalho.
Para saber mais sobre treinamento em scrum e CSM , clique aqui.
Referências : -
Manual do Scrum de Jeff Sutherland, publicado pelo The Scrum Training Institute.
The Scrum Primer, 2012, de Pete Deemer, Gabrielle Benefield, Craig Larman e Bas Vodde.
The Scrum Guide, 2013, por Ken Schwaber e Jeff Sutherland, publicado pela scrum.org.
---