"Disposição a Aprender" - uma obrigação para os profissionais de TI de hoje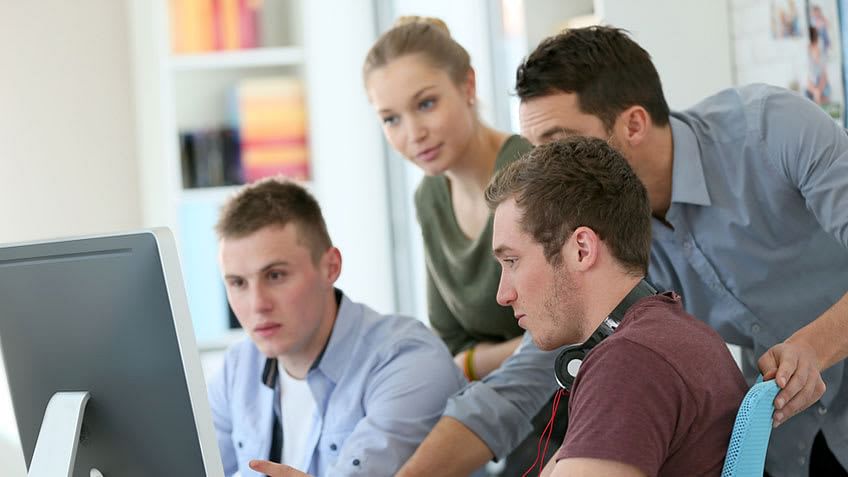 A carreira de TI de Ranjit Nandakumar estava progredindo bem por oito anos. Ele começou como programador e recebeu três oportunidades onshore. Logo, subiu as fileiras. Enquanto isso, seu papel gerencial carecia de aplicação de novas tecnologias, no entanto Ranjit se sentia seguro em sua posição. No entanto, a situação mudou em meados de 2016. Movendo-se para a automação e os avanços tecnológicos, sua empresa decidiu cortar a força de trabalho e demitir os gerentes de nível médio, cujos empregos poderiam ser facilmente automatizados. Os idosos de Ranjit no trabalho receberam notas cor-de-rosa citando a falta de novas habilidades como uma das principais razões. Só então percebeu-se que Ranjit era a única opção para manter o emprego e permanecer relevante. À medida que mais notícias sobre o enxugamento das empresas de TI começaram a circular, Ranjit se inscreveu para um curso de treinamento em ciência de dados. O treinamento o ajudou a validar suas habilidades técnicas e também lhe deu a oportunidade de fazer parte de um novo projeto digital.

Hoje, milhões de profissionais de TI, como Ranjit, enfrentam uma ameaça aos seus trabalhos confortáveis. A indústria de TI, como todos sabemos, teve a maior história de sucesso da história econômica indiana moderna. Essa indústria impactou milhões de profissionais e contribuiu para sua mobilidade social. No entanto, hoje, a indústria de TI está passando por grandes dificuldades na sequência de rápidos avanços tecnológicos.

Up-skill - a única saída
Recentemente, o The Times of India publicou um artigo sobre os desafios que as empresas de TI enfrentam ao contratar profissionais qualificados. O que foi surpreendente de ler foi que quase 70% dos profissionais de TI na Índia não podem atualizar para novas habilidades. Embora as novas tecnologias, como inteligência artificial, aprendizado de máquina, ciência de dados e nuvem, tenham criado escassez de talentos qualificados, discordo da opinião de que a maioria dos profissionais de TI ou recém-formados não pode ter qualificação superior nessas novas tecnologias.

Nisso situação atual em que a indústria é afetada por demissões, há uma sensação de estranheza pairando por aí. Vendo seus pares e amigos perdendo seus empregos para automação, os profissionais não estão mais seguros sobre seus empregos. No entanto, esse medo resultará em um impacto positivo, pois levará os indivíduos a saírem de sua zona de conforto. Essa era de transformação digital nos deixou com um cenário de adaptação ou perecimento. É um lembrete alarmante de que o aprimoramento ou a requalificação é a única saída para permanecer empregável e relevante.

Seja jovens profissionais que buscam crescimento rápido na carreira ou profissionais de nível médio que estão enfrentando uma estagnação na carreira, a necessidade da hora é ter disposição para aprender. Todo mundo está armado com habilidades básicas de tecnologia e aptidão, então não há razão para que um profissional não possa se atualizar. Se houver motivação para aprender, até as tecnologias e aplicações mais complexas podem ser aprendidas facilmente. Vivemos em um mundo onde ensinar pessoas em habilidades técnicas é mais fácil do que treinar alguém em habilidades sociais. Além disso, os profissionais têm acesso fácil a plataformas de aprendizagem robustas como Udacity, Simplilearn ou Udemy, hoje. A ênfase está no aprendizado contínuo e no aprimoramento de suas habilidades através da aprendizagem baseada em resultados. Com impactos tangíveis como aumentos salariais, cargos de trabalho alternativos, melhores projetos, os profissionais de TI na Índia podem se adaptar e permanecer à frente nessa economia digital em rápida mudança.

Treinamento digital no local de trabalho
Por outro lado, as empresas de TI / ITES estão investindo uma grande quantidade de dinheiro enquanto treinam sua força de trabalho para acompanhar a crescente demanda por projetos digitais. Muitas grandes empresas têm suas próprias universidades e comunidades de aprendizado para inculcar a cultura da aprendizagem contínua entre equipes e funções da organização. Com grandes forças de trabalho para treinar, as empresas estão fazendo parcerias com empresas de treinamento que oferecem cursos globalmente relevantes em alguns dos domínios de tecnologia mais procurados. As empresas também começaram a incluir o aprendizado de novas habilidades tecnológicas como um parâmetro-chave para os ciclos de desempenho trimestrais de seus funcionários e continuar oferecendo recompensas e vantagens quando os funcionários concluem seus cursos com sucesso. Iniciativas como essas mantêm os funcionários motivados e também ajudam a empresa a aumentar a produtividade dos funcionários e o ROI dos negócios.

Aprimore a força de trabalho com colarinho branco
A Índia está no centro das rápidas mudanças tecnológicas e, como nação, estamos também a expandir para nos tornarmos uma economia do conhecimento. É interessante ver como os profissionais estão levando a sério a prática, já que as empresas estão enfatizando o desenvolvimento de habilidades como nunca antes. Embora o governo da Índia tenha investido muito em iniciativas como "Índia digital" e "Índia de habilidades", muito mais pode ser alcançado quando o governo central, a Índia Inc. e o ecossistema educacional, incluindo a educação de nova era. empresas de tecnologia, juntem-se à mão e se unam a uma iniciativa nacional mais ampla para aprimorar a força de trabalho de colarinho branco da Índia.

Milhões de engenheiros se formam em nossas universidades todos os anos e a indústria de TI contribui com 9,3% do PIB do país, com receita de US $ 143 bilhões. Já é hora de olharmos para fortalecer a força de trabalho futura e esse ecossistema em geral. É um passo gigantesco para chegar mais perto de realizar o sonho da Digital India.
Nota: Este artigo foi originalmente publicado no Business Insider
---